OverviewNeuromuscular
. Muscle imbalance causing different pull on pelvis (anterior superior Ilium or posterior inferior ilium). Muscle tightness/shortness especially piriformis (which lead to an external rotation of the femur thus shortening of the leg) and QL (raising ipsilateral iliac crest). Genu recurvatum, valgus, varus. Asymmetrical fallen arches or over pronation. Polio, Cerebral palsy.
Trauma
. Fracture. Injury epiphyseal plate. Iatrogenic (such as hip or knee surgery). Idiopathic. Hip disorder (such Legg-Perthes-Calve? or Slipped capital femoral epiphysis). Advanced degenerative changes.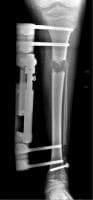 Causes
The causes of LLD may be divided into those that shorten a limb versus those that lengthen a limb, or they may be classified as affecting the length versus the rate of growth in a limb. For example, a fracture that heals poorly may shorten a leg slightly, but does not affect its growth rate. Radiation, on the other hand, can affect a leg's long-term ability to expand, but does not acutely affect its length. Causes that shorten the leg are more common than those that lengthen it and include congenital growth deficiencies (seen in hemiatrophy and skeletal dysplasias ), infections that infiltrate the epiphysis (e.g. osteomyelitis ), tumors, fractures that occur through the growth plate or have overriding ends, Legg-Calve-Perthes disease, slipped capital femoral epiphysis (SCFE), and radiation. Lengthening can result from unique conditions, such as hemihypertrophy , in which one or more structures on one side of the body become larger than the other side, vascular malformations or tumors (such as hemangioma ), which cause blood flow on one side to exceed that of the other, Wilm's tumor (of the kidney), septic arthritis, healed fractures, or orthopaedic surgery. Leg length discrepancy may arise from a problem in almost any portion of the femur or tibia. For example, fractures can occur at virtually all levels of the two bones. Fractures or other problems of the fibula do not lead to LLD, as long as the more central, weight-bearing tibia is unaffected. Because many cases of LLD are due to decreased rate of growth, the femoral or tibial epiphyses are commonly affected regions.
Symptoms
Back pain along with pain in the foot, knee, leg and hip on one side of the body are the main complaints. There may also be limping or head bop down on the short side or uneven arm swinging. The knee bend, hip or shoulder may be down on one side, and there may be uneven wear to the soles of shoes (usually more on the longer side).
Diagnosis
A doctor will generally take a detailed medical history of both the patient and family, including asking about recent injuries or illnesses. He or she will carefully examine the patient, observing how he or she moves and stands. If necessary, an orthopedic surgeon will order X-ray, bone age determinations and computed tomography (CT) scans or magnetic resonance imaging (MRI).
Non Surgical Treatment
In some circumstances, the physician will recommend a non-surgical form of treatment. Non-surgical treatments include orthotics and prosthetics. Orthotics are a special type of lift placed in or on a shoe that can be used in the treatment of leg length discrepancies between two and six centimeters. In pediatric patients who have large discrepancies and are not good candidates for other treatment forms, prosthetics can be helpful.
what is a shoe lift?
Surgical Treatment
Differences of an inch-and-a-half to two inches may require epiphysiodesis (adjusting the growth of the longer side) or acute shortening of the other side. Differences greater than 2.5 inches usually require a lengthening procedure. The short bone is cut and an external device is applied. Gradual lengthening is done over months to allow the muscles and nerves accommodate the new length.